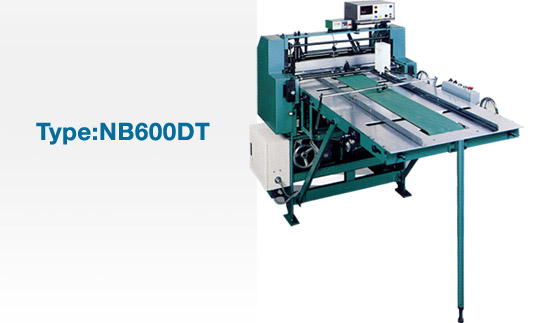 - Place a stack of clamped hangers in the chute at the back of machine
- Place calendars on the front belt conveyer. The system installs automatically clamped hangers in three-folded shape and ejects from the back.
- The most advantage is that this machine requires neither gluing back of calendars nor peeling (dividing) which is the biggest burden to make calendars. Clamped hangers can be installed to unglued sheets.
- For the speed, it is possible to bind 17,000 | 20,000 of calendars if it is run for 8 hours per day.
- Equipped with a device to check malfunction of taking out clamped hangers and defection of clamped hanger installation. Can be switched between single operation and interlocked operation at any time.
- Since this machine employs all mechanic system, devices such as air or vacuums are not required.
- Clamped hanger feed can be easily adjusted since it is automatic feed.
- Capable of binding any of 1, 7, or 13-sheet of calendars (posters).
[Type]

NB600DT...No adjustment for No.3 crush NB800DTcSpecial order machine capable up to 800 mm width for right and left of calendars.

[Specification]

Clamped Hanger Installation Speed: 40-50 sheets per minutes Valid Paper Size: Max (600 x 900)/Min (254 x 250)

[PowerRequirements]

0.75kW/200W/90W

[Total Weight]

620kg